Answers to Lindy & Philip's 2017 Christmas Card Visual Puzzles !
1. Christmas Lights 2. Christmas Pageant 3. Little Drummer Boy
4. It Came Upon a Midnight Clear 5. Christmas Rap 6. Mrs. Claws
​7. Dashing Through the Snow 8. Elf on the Shelf 9. Mince Pie
10. Ice Skates 11. I Saw Three Ships
Hope You Had Fun this Holiday and have a Great 2018!
​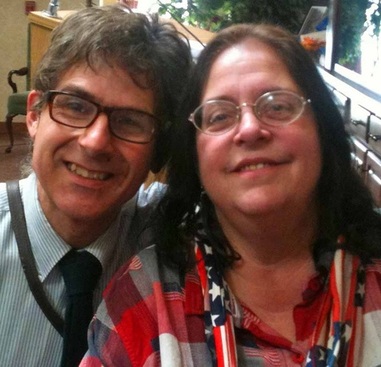 Lindy and Philip Malin were married on May 1st, 1982. They've been exploring life and learning together ever since. They definitely are an example of how opposites attract! Between the two of them, if one comes up with a new idea, the other can usually figure out how to make it a reality!
After working in "normal" jobs for the first seven years of their marriage, Lindy & Philip gave notice to their employers on the same day at the same time, and their first business, Creative Consultants, was born.
Creative Consultants offers community education and human development training to the public and to businesses, with the motto, "Being Better Happens from Within".

Monarch butterflies have been a part of their lives since 1997. Their amazing transformation, and the way they confidently launch into the wind and glide, even though they've never flown before, inspire Lindy & Philip to reinvent themselves and discover hidden talents!
---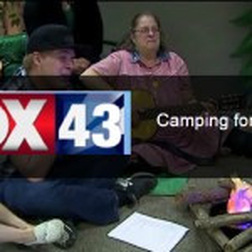 Lindy & Philip were on
Fox 43 News!!
(click here)
Your friends the Malins were included in a story about overcoming disabilities recently. Lindy was asked to provide campfire singalong
music
and fun camp games at the Disability Empowerment Center in Lancaster PA.
DEC hosted a "Summer Camp Day" at their headquarters at 941 Wheatland Avenue, complete with marshmallows, hot dogs and scary ghost stories! They asked Lindy to join in the fun, so she grabbed her guitar and led a toe-tapping singalong around the "campfire "!
---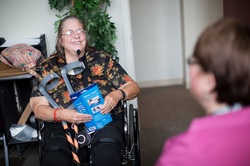 ---
Find Answers to your emails about Monarchs below photos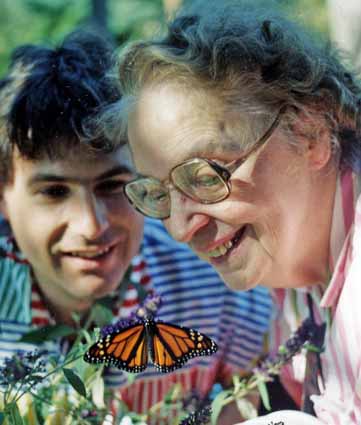 | | |
| --- | --- |
| | Lindy lets one of her "babies" taste her nose with his feet before he makes his first flight in her garden. |
About all things milkweed and monarchs.

Please if you were able come to the Ned Smith Nature Festival in Millersburg I can only tell you that it was a wonderful day. The folks from Folks Butterfly Farm were there with their butterfly tent. Lindy presented on Monarchs with many examples of these beauties. There werer many things to do in this yearly free event (including a paddle boat ride) and you could either bring your own lunch or there was plenty of delicious food there. This is a small and excellent nature festival; if you haven't heard of it please go to the web site. There you will find when I am doing a Monarch program and if you come please let me know so I can give you a butterfly hug. Thanks! Lindy (and Philip too!)
PS For those who inquired, that is where I got my mason bees! I can assure you they were busy pollinating my pear trees in early spring!
The most important think you need to know is NO MILKWEED, NO MONARCHS. Hence, for all of you who inquire what you can do to preserve the Monarch migration - plant milkweed seeds, or get plugs of milkweed and plant those. Out of all other flowers or plants - milkweed is the only host plant capable of sustaining all monarchs in all stages. Here in our area we can plant a variety of different milkweeds, but make sure you do not plant or harvest dogbane! (It looks similar to milkweed) I appreciate how frustrating it can be till you see the wonderful milkweed growing in your garden space but truly it is amazing to see how the monarchs come, nectar on the exquisite smelling flowers, mate over the field of milkweed, lay their 300-400 eggs on the milkweed and watch the eggs hatch and the caterpillars go through their instar stages. It took a long time for us to lose the milkweed (as many who wrote suggested they recall seeing fields of milkweed) but within a one- year cycle we could bring back the monarchs and milkweed. I'm so sorry to be the one who must report that there is a shortage of milkweed and that is how we can help the monarchs. I hate to be the bearer of bad news but just remember NO MILKWEED NO MONARCHS. Thank you to all who will become citizen scientists to find sunny patches to prepare and to plant the seeds this fall.
Many questions were about how to do this less intensively. It is a huge amount of work to rescue but if you can see a plan for a few years to plant milkweed you will have less work cleaning out tanks of frass (caterpillar poop) and more of the pleasant mornings watching the monarchs fly over fields nectaring and enjoying their wings and creating nurseries. In other words, the less work you will have to do after milkweed is in the ground and sustaining the monarchs. Perhaps after that time we can have little meeting groups about Monarchs but till then I am up to my eyes in cleaning out tanks and weeding the milkweed and planting zinnia seeds! <tee hee> If you'd like to meet a free program is going to be held at the Ned Smith Nature Center and it will be fun to meet some other monarch rescuers!
I find that monarchs best enjoy and benefit from groupings of the milkweed a momma monarch had 300-400 eggs so that's a lot of babies to place on milkweed. She most often will lay one egg per plant. Yes, I said that. Not one egg a leaf but one egg per plant so she looks from on high for the famliar cross pattern of leaves from the milkweed. They often will nectar all spring, summer and autumn on zinnias - and of course at this time of year a pack of zinnia seeds is very inexpensive and the plants like to be sewn directly into warm soil. They like sunlight and water till they sprout - (3-7 days) and they like to be watered from below (not on their leaves so they do not get mold) Your garden will be colorful and sustain the monarchs till their migration.
About Milkweed seeds.
It will not be until autumn when you see the big brown pods crack open and whispy puff begin to be exposed. At the end of each of the fluff you will see a brown seed - that is what you wish to plant in the autumn so it gets lots of sunlight the following spring! There are wonderful resources you can purchase and some even are given free to interested persons who send a self addressed stamped envelope. One amazing lady is Edith in Florida and you only have to put into your search engine FREE MILKWEED SEEDS.
Thank you to all who inquired about how to sustain the monarch butterflies.
About Milkweed Plants and Plugs
No sooner have I told folks were to get milkweed plants than they are sold out at those garden stores. I do know that there are places on the internet where you can buy milkweed plugs and plants - I have found that they are a wonderful "prime the pump" experience to get started!
For those who are feeding Milkweed to tank caterpillars:
The milkweed must be fresh or else you will have diseased caterpillars and ill formed butterflies. I have tried many ways but what I find works best for me is to buy at garden shops or craft stores the wet oasis blocks. I get milkweed and stick the stalks in the tanks and the caterpillars will wander off the "old" milkweed and onto the fresh new plants. A good hint is to set the tanks on end, use a bit of mesh or tulle or a regular tank cover. This way you can have tall stalks in the oasis and when they go to the top of the tank to pupate you will not be disrupting them when you have to take off the tulle or tank cover (the cats will be up on the top of the tank or on the milkweed) As you need to clean out the caterpillar poop (frass) daily and have a fresh air supply exchange into the tanks, the tanks on end solve a host of problems. For those who raise just a few butterflies at a time I have heard that mesh hair nets that are used by bakers and food servers have a bit of elastic and snap over the tank openings. I have seen the white ones with tiny holes even keep a small butterfly contained. Just remember that clean fresh air is important.
About where to go to photograph them:
I too am a professional photographer so I often take folks and recommend going to somewhere like Hershey Garden to their butterfly tent/enclosure. You can go in and stay as long as you wish and they have a lovely environment with much natural light. The relaxed pace is grand. Just remember the photographer's creed - be patient. That works for the nature you are photographing and the folks you are working around. Everyone is excited to see and snap the butterflies! Some shots are always just "lookers" and some you get. If you need to, take along a tripod to avoid camera shake. Talk to the folks inside the tents - they love to share what they know and have watched unfold and often they know when new caterpillars are coming and what to plant as host plants for butterflies.
Thank you for your inquiries. Please check back here at our web site:
www.lindaandphilipmalin.com
and see our answers to questions folks write to our email address:
lindaandphilipmalin@gmail.com
I will continue to read questions and inquiries but I will answer them at our web site, especially as the season gets busy with monarch care! <tee hee> Click on the monarch tab.
There are so many good questions that have been asked and I will continue to write answers and post them here. I will briefly answer one final question - more will come as the season unfolds on this topic:
What is the life expectancy of monarch butterflies.
The first group that are born here last anywhere from 2-4 weeks. Their job is to arrive, scout out milkweed and nectar patches, mate and lay their eggs. They do not travel far as their body weight is much heavier than the migrating ones as they have their eggs and sperm sacks. Their job is to mate, lay eggs and fly graciously.
The second group of monarchs are born later and they will be the ones that migrate to Mexico (from our area that is where they travel) These monarch are part of the Methuselah Generation that will not develop sexually until they have begun their migration. They will be lighter and more focused on staying on the path of travel to Mexico. Each generation has its own work to do. It is exciting to think about how everything has a time and season to be its best self!
For fuller answers to this and other questions please check back if you wish.
Pictures from some of Lindy's Artist-In-Residence Events
Thank you so much for all the thoughts, prayers, emails and appearances during our recent Stained Glass Artist events. It was so much fun as we all shared our creating process around the tables. We thoroughly enjoyed spending time with old and new friends of all ages at JoAnn's Fabrics, Lancaster, PA. Everyone got a chance to see the glass polishing as it tumbled, and got to choose a piece of the antique stained glass to make into their own jewelry creation.

Here are a few photos from the events--including participants' Cathedral Jewels creations!